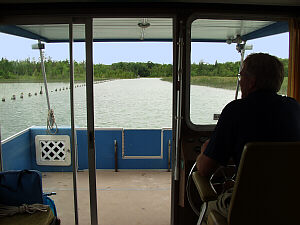 TGIF! It had been a long week and with the biggest American holiday weekend here I was ready to get away. I thought we would try house boating this year to avoid the back and forth headaches after each day on the water. Windjammer Marina would deliver a houseboat to Burt Lake for us. I rode along with Service Manager Kurt Hoffman who has been taking boats through the Inland Waterway since 1973. It was a cool windy afternoon as we entered Crooked River from Crooked Lake approaching the Crooked River Locks.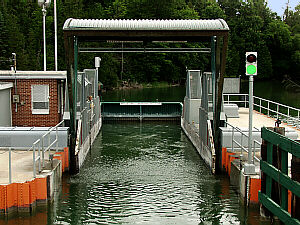 The houseboat is 40 foot long and eight foot wide and as I stood on the upper sun deck I was glad Kurt was at the helm. In the tight area around the locks the twin 75 horse Mercs on the back made it a lot easier to maneuver than a single engine. You really get a great view up top but you need to duck a bit with about four foot of clearance under the gates. I think we may have woke the locks operator when we arrived but she got us through with a smile no problem. After dropping a couple feet the gate opened up to the rest of Michigan's Inland Waterway.


As we headed through Alanson Kurt called for the World's Smallest Swing Bridge to be opened across the narrowest point along the river. It's a tight fit with the wind blowing and just looking ahead it made me a bit nervous. We slipped through with a foot or more on each side to spare and made our way north under the M-68 bridge where we past by three guys in what looked to be a home made boat. The rest of the way down stream was relaxing, we past a few white tail deer just past hay lake crossing the river. It was on to Burt Lake.