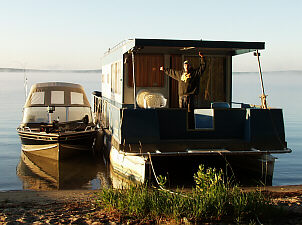 After leaving the houseboat in Maple Bay Friday afternoon, just west of the Maple Bay Campground beach, Neila and I headed over in our fishing boat and an early night. We had packed the houseboat with everything we would need before it left Windjammer Marina. Saturday morning I was up with the sun. It was a gorgeous morning and I sipped my fresh perked coffee watching the lake start to wake up. I was nice waking up on the beach knowing there would be no packing and rushing to get a spot at the lake. Cell phone off and I'm there!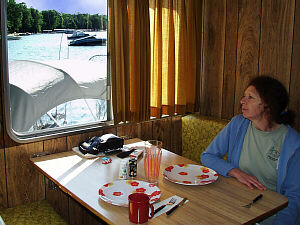 After my coffee I started on breakfast. There was plenty of room with a four burner stove, oven, frigid, freezer and a 70's style dinning booth with a view. Neila soon awoke to the smell of bacon and hot coffee and relaxed watching the shore as I whipped up the eggs. I like to cook and would gladly give up the dish washing job. A small double sink and hot running water helped Neila make a quick job of that after breakfast. By the time the last dish was dried stacked I had fired up the engines moved to the sand bar and reset the anchors.


Extended from the point between Poverty Bay and Maple Bay is a large sand bar. It averages about 2 foot with a steep drop into 12 foot of water around the edges. I had the stern in shallow with the bow in the deeper water making it perfect to dive off the front, or walk off the back. This is an ideal location to spend the day enjoying the water and I knew later that day it would be packed with sun worshipers, skiers, tubers, jet skis food, drink and music. But for now it was still early, peaceful, and just a darn beautiful morning!