Snowmobiling From The Cisco Chain of Lakes By DMG, 2005 Pg. 1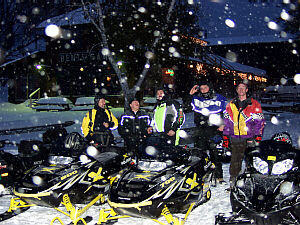 By Friday afternoon most of our group had settled in at Vacationland Resort on Thousand Island Lake. The first thing we needed to do was check out the lake route to the trail, gas, and the two restaurant/bars located on the Cisco Chain of Lakes. In the heavy snow that evening one could get turned around, but with the orange barrels marking the route and watching the GPS we had no problem finding Bent's Camp, on the south end of Mamie Lake shown right, for a nice relaxing dinner by the fire. It wasn't long before the daily winter blues just melted away in anticipation of the week ahead. Nice place, and easy to get to.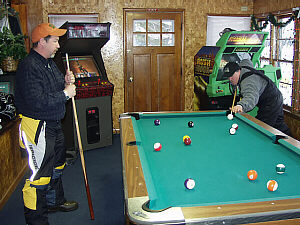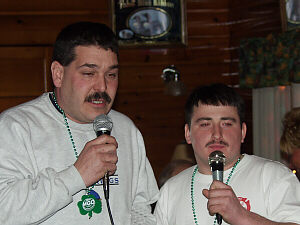 After dinner we followed the ice around islands, through channels, and over a bridge to the north end of Cisco Lake where the boat ramp leads you to trail 13 and beyond. The Cisco Lake Resort & Bar sets next to the ramp and it was our last stop that night. John and Fred Sr. played some pool while Chad and Fred Jr. ate and played the video games in the back room that overlooks the bay. Later that evening Loyd and Jr. sang to their hearts content and Sr. got to know the owner/chief, red hat left, as they snacked the night away! We all had a pretty good time that night. It was nice to get out and enjoy a day off. A short ride back to the cabin and the first time I've slept in for months. The last two members of our group would be up some time Saturday and until then I had no plans. I spent all day eating, laying around the fireplace, and looking over maps of the area.


content property of Michigan Interactive™ ©since 1995 all rights reserved